M2M Communications Can Improve Shop's Output up to 50% and Increase Income up to 6 times
Mathematician and 19th century inventor William Thomson's timeless advice made sense in the 19th century, but applies just as well today to the North American manufacturing industry: "If you cannot measure it, you cannot manage it." Yet according to Dave Edstrom, past Chairman of the MTConnect Institute, approximately 95% of manufacturing machines are not monitored. By monitoring all types of machine tools and associated processes, shops can improve communications to increase production and profit.
So why is it that 95 percent of manufacturing machines are not being monitored? The most common answer is the complexity and the cost of connecting a wide range of machine tools and manufacturing equipment that span decades and many different brand names.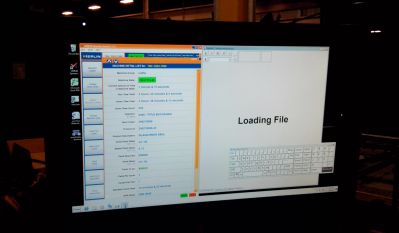 Workstation screen for MERLIN communication platform installed at each machine enables an operator to remain at the machine at all times.
Manufacturers purchase machine tools over time to match contracts, thus many shops contain machines with up to 30 generations of eight different controls, all running closed proprietary protocols. This is a manufacturing pre-condition, one that severely limits the ability of these machines to communicate with each other or with management about how to increase productivity.
Yet effective machine communication across the shop floor speeds up the production process and can increase machine utilization by 10 to 50 percent. With the advent of Machine-to-Machine (M2M) communications, plants can improve output more than 10 percent and related Income From Operations two to six times, all while using the same equipment, labor and shifts.
Manufacturers are starting to bridge the machine tool communication divide with MTConnect. Introduced in 2008, MTConnect fosters greater interoperability between manufacturing devices and applications. It standardizes the basic "languages" between machines (XML and HTTP) so that they are able to communicate with each other and provide real-time data sharing capability across the shop floor.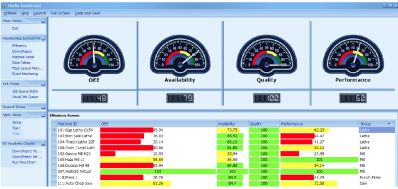 MERLIN main dashboard display screen showing some of the 150 performance indicators that can be monitored.
As a non-customized solution, MTConnect opens the machine architecture of the plant in a way that overcomes its pre-conditions. The resulting data can be shared across the network for processing by various software applications, therefore boosting manufacturing operations.
"Think of MTConnect as a Bluetooth for manufacturing that comes with a dictionary of terms," said Dave Edstrom, who is now Chief Technology Officer (CTO) of Memex Automation Inc. "Its data dictionary standardizes all the different manufacturing terms used by different machine protocols so that they mean the same thing from any control."
Combining MTConnect's open, royalty-free communications interoperability with Memex Automation's MERLIN Manufacturing Execution System (MES) and M2M communications platform, companies can experience the results of increased productivity and profitability as it happens in real-time. Memex Automation has taken its 20 plus years of experience in shop floor technology integration and distilled it into a machine-to-management packaged solution that runs on any machine or device on the shop floor.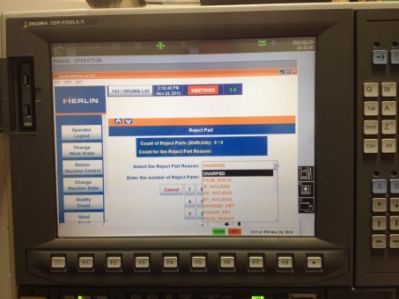 Memex MERLIN system can operate independent of any DNC solution.
MERLIN is a hardware and software solution that solves that "last meter" of connection that manufacturing companies need. It monitors machines across the facility and analyzes where the bottlenecks are happening and where the company can make improvements. MERLIN also provides real-time dashboards of plant operations performance indicators for all to see.
Manufacturing giant Mazak established a plant in Florence, KY, in 1974 that has since undergone numerous expansions and is now 900,000 square feet.
Mazak has fully embraced M2M communications and was an early adopter of the MTConnect standard. It installed MTConnect not only on its machine tool products but also on its own manufacturing equipment.
"This total embrace of MTConnect was intended to make a statement," said Brian Papke, President of Mazak. "We wanted to be a leader in both promoting and implementing MTConnect. We wanted our example to show the importance of moving toward data-driven manufacturing. MTConnect is an essential part of what makes data-driven manufacturing possible."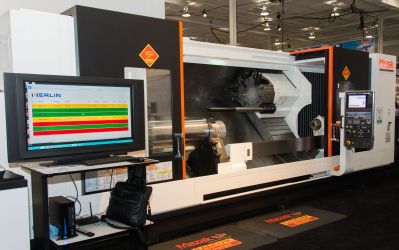 Memex Automation's MERLIN system monitors a Mazak Slant Turn Nexus 600 big-bore turning center machine. Display screen at left shows real-time data OEE, availability, performance and quality.
Mazak realized that in order to maintain its world class manufacturing status that it needed to further its production capabilities. After significant research, it was decided that the MERLIN solution was the best one for the Florence plant.
Data showed that reports could be configured for various users within the company, and a big advantage was the collected data and archived reports could be stored locally on a dedicated network server. "Machine tools generate a lot of data. This data has to be organized properly in order to be understood and acted upon," said Neil Desrosiers, Mazak's developer of digital solutions. MERLIN automatically sends out over 75 reports per day, about operational issues.
Mazak installed MERLIN on 15 machines at the Florence plant and so far have yielded a 42 percent improvement in utilization for the monitored machines. In addition, Mazak reduced operator overtime by 100 hours per month and 400 hours per month of previously outsourced work was returned to Mazak.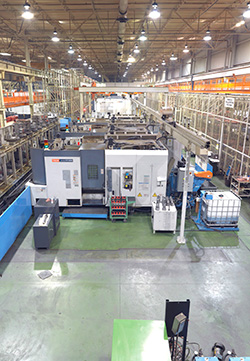 Mazak factory in Florence, Kentucky with 900,000 sq. feet of space.
Most manufacturing companies believe they run a fairly efficient facility, but in actuality, Memex finds most shops are running below 40 percent Overall Equipment Effectiveness (OEE). OEE is a statistical measurement that is used to determine how efficiently a machine is running based on the product of three ratios. OEE = Availability x Quality x Performance. Those same manufacturing companies that were running below 40 percent OEE found that with MERLIN installed, they were operating at 80 percent OEE or more, a huge improvement.
Boosting productivity from the available machines and shifts is the right approach to revolutionizing the manufacturing industry. Thanks to M2M communication platforms manufacturing companies across North America can increase their ability to compete globally and the renaissance in manufacturing "onshoring" can continue.
To see the full article, please click here.
More Information
0
0
Memex
/wp-content/uploads/logo.png
Memex
2014-08-19 14:06:13
2021-11-26 10:14:38
M2M Communications Can Improve Shop's Output up to 50% and Increase Income up to 6 times